QAS-Certified Carbon Offsets
Clear is on a mission - to make it easy for everyone to take action on climate change.
#JoinOurMission #QAS-Certified
Things you should know about us
1 Clear is a Certified B Corporation Certified B Corps are a new kind of business, balancing profit with people and the planet. They meet the highest standards of social and environmental performance – leaders of a global movement of people using business as a force for good.
Our B Corporation Certification helps you understand who Clear is and what we stand for.
2 Our calculators are the most accurate available
The calculations behind our carbon offsets are based on the most up-to-date understanding of carbon dioxide emissions possible, continually updated to be the most accurate available and audited by the Quality Assurance Standard for Carbon Offsetting. We include several sources of climate warning that most other companies miss out – such as getting fuel from the point of extraction to the point of access, and non-CO2 greenhouse gases. Our methodology document is here.
We are also the only carbon offset company to offer offsets for internet use and skydiving.
3 Our carbon offsetting projects are the very highest grade
We use the highest grade of carbon offsets available – Certified Emission Reduction certificates (CERs) from the Clean Development Mechanism. Like our online calculators, these are also fully compliant with the Quality Assurance Standard for Carbon Offsetting.
4 Clear is efficient and trades ethically
Clear is extremely efficient, with carefully minimised overheads and all profits reinvested in the company. We provide a free carbon audit tool for any organisation in the world to download online, updated every year with new emissions factors. We also provide a free hour of consultancy to get organisations started on their journey to net zero. Our sole aim is to tackle climate change. Our carbon offset prices are competitive, and we can usually negotiate discount for large volume sales.
5 Our pricing is fair and affordable
Clear charges a flat fee per tonne of carbon emission achieved, which includes all the checks and balances that come with a Quality Assurance Standard audited product. The price is currently £14.99 per tCO2e.
Clear prides itself as a flexible, forward-thinking organisation.  The ideas for several of our products came from people we work with, a good example being our skydiving product.
How does carbon offsetting work?
1. MEASURE, REDUCE, OFFSET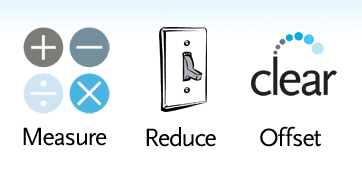 Climate change is a challenge facing every one of us. Our responsibility starts with measuring our harmful emissions, or carbon footprint. There's lots of advice available on how to reduce our footprint, but inevitably there's always some emissions left. That's where carbon offsetting can help.
2. WHAT IS A CARBON OFFSET?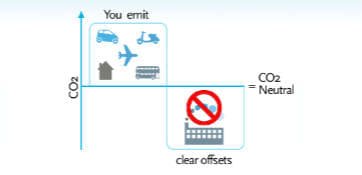 A good carbon offset compensates for your harmful footprint by paying for a project to reduce the equivalent emissions somewhere else, for example replacing a coal-fire electricity plant with wind turbines. Because emissions are dispersed throughout the atmosphere, this compensates for the carbon footprint you weren't able to reduce.
3. HOW CAN I BE SURE ABOUT MY CARBON OFFSET?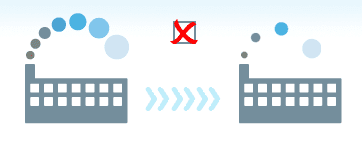 Some carbon offset providers fail to meet the stringent standards expected by businesses and consumers.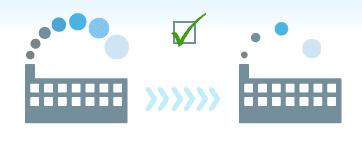 Clear is different. We only use the highest quality projects which meet standards such as Certified Emission Reduction certificates (CERs) and Gold Standard VERs. All our carbon offsets are certified by the Quality Assurance Standard for Carbon Offsetting. This ensures that every kilogram of carbon offset purchased is actually achieved.
What is the Quality Assurance Standard?
The Quality Assurance Standard for Carbon Offsetting (QAS) benchmarks carbon offset firms against the most rigorous quality standards in the world for voluntary carbon offsets. The aim is to allow consumers and businesses to offset their carbon emissions with complete confidence. The QAS is the only carbon offset standard which is independently audited – this makes it independent from both carbon offset providers and the organisations which run the carbon credit verification programmes.
Clear is the only carbon offset provider to have achieved Quality Assurance Standard (QAS) Certification for all of its carbon offset products – this includes all our online offsets and our offline carbon audit tool for small business. Our base price is always displayed on our homepage, in tCO2e (tonnes of greenhouse gas reduction equivalent to CO2).
The following are key criteria for compliance:
Highest levels of accuracy available for online carbon calculators
QAS-certified credits retired within one year of carbon offset purchase
Clear & transparent online pricing for carbon offsets
Must provide information on climate change, the role of carbon offsetting and how to reduce your carbon footprint
Our online carbon offsets and our free downloadable Carbon Audit Tool meet all these requirements and use the latest calculation factors updated every year. We also use total emissions of CO2, CH4 and N2O (in CO2e), rather than CO2 emissions only.
We really like hearing from people about Clear. We've collected the answers to the most frequent questions in our FAQ page, so you might get an answer most easily by looking there first. Or feel free to drop us a line using the form below.